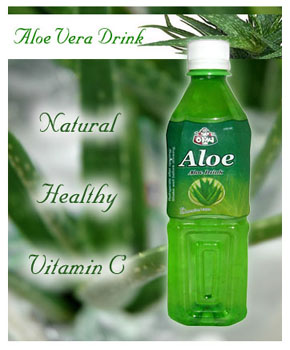 Aloe Vera Drink
Aloe Vera is one of nature's greatest wonders. It is often referred to, as 'Nature's Miracle' because of it's many benefits to one's health and well-being. Aloe has been beneficial to mankind for thousands of years. Aloe is used in many skin care products because of its ability to stimulate healthy cell growth and repair damaged tissues. Most people think of using Aloe only on their skin because that is all they know about. In recent years researchers have found that Aloe juice taken internally provides a whole new realm of benefits.
Our Aloe Vera Drink comes in two varieties: Sweetened (with Honey) or Non-Sweetened.
Each bottle is 16.9 Fl. Oz.
20 Bottles Per Case / 60 Cases Per Pallet
Minimum 5 Pallets
Ti-To Marketing Corp.
Wholesale Food Distribution

Sherman Oaks, CA

Email:
info@titomarketing.com

Home Page | About Us | Products | What's New | Contact Us - info@titomarketing.com

© 2004 Ti-To Marketing Corp.